Sign up for online consultation
Send research results
School of Epilepsy.
Diagnosis and treatment of structural forms of epilepsy
Drug-resistant epilepsy:
a verdict or the need to change treatment tactics?
Typical practice day:
surgical treatment of epilepsy
Parkinson's disease:
difficulties in wartime.
Neural Tube Defects and Update on Prevention and Current Strategies Webinar
Congenital defect of the nervous system are an urgent problem. After all, last year we had about 450 hospitalized cases in Ukraine. The peculiarity of these diseases is that in most cases it is impossible to operate on and return young patients to a full social life. Instead, you can significantly reduce the number of birth defects in a simple and effective way - by adding salts of folic acid to food. Extremely interesting discussion about the features of surgical treatment of congenital malformations of the nervous system and ways to prevent these diseases.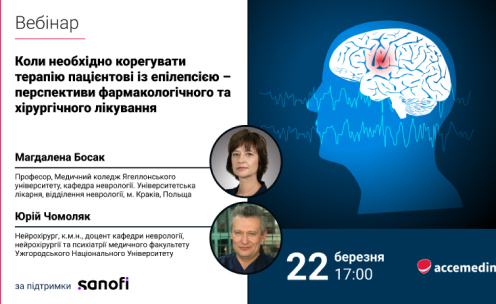 Webinar "When it is necessary to adjust the therapy of a patient with epilepsy - perspectives of pharmacological and surgical treatment"
Yuri Chomolyak will speak on the topic "Refractory epilepsy: a neurosurgeon's view". At the webinar, he will talk about the modern possibilities of surgical treatment of patients with epilepsy and share the strategy of patient management after surgery.
At the webinar, Magdalena Bosak will present the topic "Correction of therapy - strategy of pharmacological treatment". The speaker will talk about modern approaches to the correction of therapy and the stages of its replacement if necessary.
You can register for the webinar, which will take place on March 22, 2023 at 5:00 p.m., using the link.
Participation in international conferences